This week my friends and I decided to hike 10 miles into Havasupai in the remote northern Arizona desert to spend four days exploring the canyons and waterfalls. A lot has been written on Havasupai so I'll skip the pack list and other guide details in lieu of a more personal list. These were the things that no one really mentioned to me, the surprises – both good and bad, which I hope will help fellow first timers when planning a trip to this magnificent space.
1. Go in the off season. We went in February, midweek, and left on the Friday before a three day weekend. I saw a total of 5 people in the first few days and we were the only ones at every waterfall we visited. It was absolutely magical.
So, don't discount the shoulder months: if you have the option, go before April or after September, avoid weekends/long holidays. Spring break and summer (June – August especially) see peak traffic and reservations are often sold out months in advance.
In summer temperatures can be over 100 degrees F – great for swimming, challenging for hiking/sleeping. That being said, the water levels and temperatures stay fairly consistent throughout the year at around 70 degrees. It was a tad chilly (50s-60s during the day), but even this Hawaii girl swam when the sun hit directly down into the canyon. Worth thinking about if you're like me and prefer solitude in nature. Biggest drawback for going in this time of year? Personally, as a photographer, I didn't like how most of the trees were barren.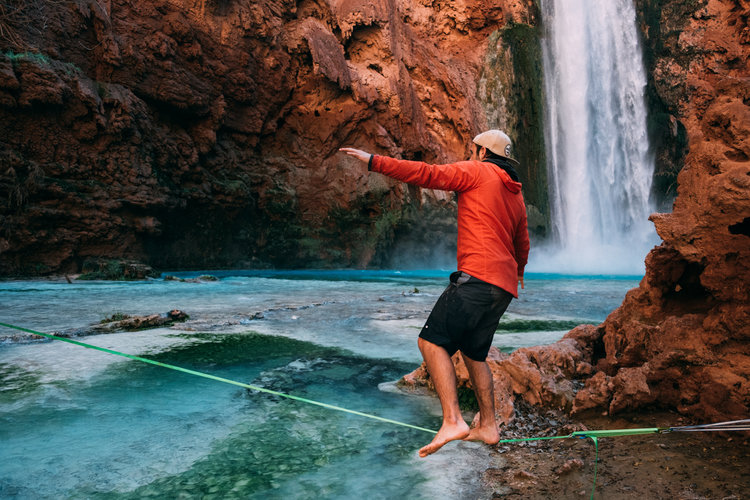 2. Online Reservations (kinda). Havasupai's first online reservation system for camp permits was just launched this February and re: point #1 spots go quick. Check availability and book online at sunrisereservations.com or call the tourist office at 928-448-2121. Don't agonize (like I did) over which campsite to pick, because you actually choose once you're down in the valley. In addition to the camp permit, there's also a $50 entrance fee that you pay at the same office in Havasupai village (mile 6 of the trail).
*At the time of this writing the online system is actually down due to an overwhelming number of permit requests. Hopefully they get it back up soon as some people have said it takes days or weeks to get through on the phone.
3. Road to get to the trailhead has a lot of animal activity. If you're driving in at night use extreme caution. Jackrabbits, deer, and cattle all came within inches of my front bumper and led to some heart-pounding, brake-stomping moments on the last 65 miles of windy road to the trailhead.
4. Wishing for a bear box. Oh, no one told you there were bears in the desert? Well there aren't, buuuut be potentially prepared for your camp to be silently assaulted day and night by squirrels… They will open zippers, chew through aluminum, and steal food 5 times their body weight. My camp log has entries like "The squirrel took my cheese and my pen is breaking." and "Squirrels have pilfered again – burrito, Clifbars, and a metal spoon." I didn't have enough paracord to hang our food so the best option we found was to store it all in a waterproof bag inside of a closed and snapped shut backpack inside of a zipped tent. My friends took no such precaution and came back to find our furry companions had chewed two holes through the side of their tent. Personal stories aside proper food storage benefits us all. It's a great habit to get into no matter where you're camping as it avoids creating an unhealthy and sometimes dangerous association for animals between humans and food sources. Also, it sucks when you come back from hiking all day to find the wrapper of that ONE snack you really wanted up in a tree somewhere.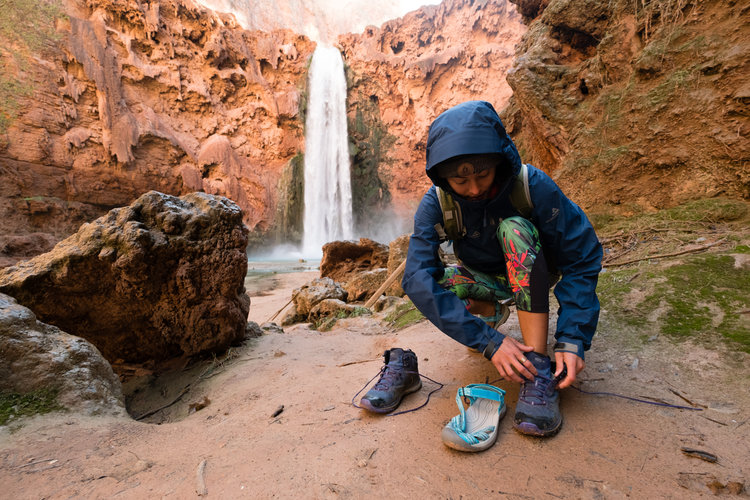 5. You'll want hiking shoes and water shoes. The 10 mile hike itself is on a maintained trail, however, the 2,000 ft. elevation change in the first mile and uneven terrain warrant proper footwear. Think lots of sand, loose rocks, and some boulder hopping. I wore my Terradora lightweight hiking boot made by KEEN. It's my favorite crossover shoe in terms of having the ankle support, being waterproof (not strictly necessary but nice for the shallow stream crossings) without being a super heavy backpacking boot. Water shoes are great for day trip explorations to the many waterfalls in the area. You'll definitely want them if you're going to Beaver Falls as many of the foot bridges were washed away in a flood.
6. Toilets are surprisingly nice – use them. Instead of feeling like you're walking into some smelly, wet den of darkness, you feel like you're entering a hamster's nicely swept house. It's lovely, trust me, and a far departure from most of my experiences in campground pit toilets. These ones use a method of sawdust composting which you sprinkle in when you're done and have zero smell. Case in point: one of my friends strung his hammock underneath the deck of the bathroom and slept there for a night. More importantly, it helps keep the soil and river systems clean which is of upmost importance in a highly traffic camp area.
7. Helicoptering out. You can hike, take a pack mule, or helicopter to get in and out of Havasupai. If you plan on taking the helicopter I would advise you to bring cash ($85/per person) or they charge you an extra $10 credit card fee each. In the winter AirWest, the sole carrier, only runs on Fridays and Sundays, no reservation needed.
8. It's way, way prettier than you think it's going to be. I'm incredibly lucky to spend time in some of the most beautiful places on Earth. Havasupai absolutely shattered any expectations I had and replaced them with this unique sense of wonder and amazement. As a writer I struggled to find the words, as a photographer I took far too many pictures. Sapphire water tumbles off warm sandstone cliffs into lush valleys of cottonwood and elm trees. Deeply textured canyon walls tower up hundreds of feet to meet a star-filled night sky. In ways both grand and minute it seems like an oasis designed by the most wildly imagined childhood dreams. Rope swings, swimming holes, ladders bolted to cliff sides, and tunnels to waterfalls – it truly was one of my favorite backpacking trips I've ever done.